Share in the journey of
Disney's Lion King Jr.

, coming to EPAC on February 3, 2017

EPAC is very excited to continue its extremely popular Kids4Kids series with Disney's Lion King Jr. A lively stage adaptation of the Academy Award-winning 1994 Disney film, The Lion King is the story of a young lion prince living in the flourishing African Pride Lands. Born into the royal family, precocious cub Simba spends his days exploring the sprawling savanna grasslands and idolizing his kingly father, Mufasa, while youthfully shirking the responsibility his position in life requires. When an unthinkable tragedy, orchestrated by Simba's wicked uncle Scar, takes his father's life, Simba flees the Pride Lands, leaving his loss and the life he knew behind. Feel the warm winds of the African savanna as you feel the love and join the unforgettable Simba, Rafiki and Timon as they journey from Pride Rock to the jungle–and back again–in this inspiring coming-of-age tale about the circle of life and the true meaning of friendship and loyalty.

This family-fun production will be performed by a talented cast of young actors as part of EPAC's Kids4Kids series. This series provides a great opportunity for children between the ages of 6 and 17 to hone their acting skills while making new friends.

A letter of thanks from a Lion King Jr. parent

EPAC would like to thank our wonderful sponsors who made this show possible.

Premium Show Sponsor is Ted Williams, MBA, Ameriprise Financial Services, Inc.

Opening Night Party is at Lily's on Main.

Individual Performance Sponsor for 2/3-4 and 2/19 shows is The Nixon and Aument Families
Individual Performance Sponsor for 2/11 is The Tin Bin
Individual Performance Sponsor for 2/18 is Hobby House Retreat

EPAC's 2017 season sponsor is 12:34 MicroTechnologies.

EPAC's 2017 season sponsor is Commonwealth Charter Academy — CCA.

EPAC's 2017 season media sponsor is Blue Ridge Communications.
Take home a keepsake poster commemorating
Disney's The Lion King Jr.

at EPAC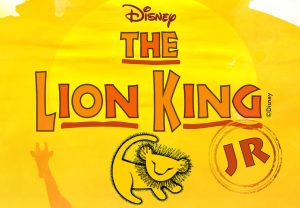 Now is your chance to purchase an original, limited-edition piece of art to bring theater into your home. A great gift for any budding theater fan, this poster will make a powerful visual statement wherever it is displayed! Each poster is $10 and will be signed and numbered by the artist to verify its authenticity.
Only 50 of these artworks will be produced, so act now to secure a piece of EPAC history that you and your family will cherish for years to come!
Once purchased, your artwork will be available for pickup at the theatre from February 3 to February 19. Shipping is not available. Simply bring your email confirmation of purchase when you come to pick up your poster!
Reflecting on the Success of EPAC's Kids4Kids Series production of "The Lion King Jr" from Director Iring I. Gonzalez
Camp Director
Irving Gonzalez
The Lion King Jr has been described as the "Hamilton of Lancaster County". This was evident by how difficult it was to get tickets for the number of sold out performances. Those who were fortunate enough to witness first-hand the amazing cast of 70 will agree this was no ordinary Kids4Kids production on the EPAC stage. From the moment you entered the theater, your "Lion King Jr experience" began. Patrons were transported to a jungle environment with background music, lobby décor, and red carpet step and repeat where masks and props were available as you took photos.The Lion King Jr gave our audiences the insight of how musical theater can have a dramatic effect on the lives of our young performers. Each cast member took on the challenge to tell this story in a way that was genuine and authentic, allowing them to carry over the narrative component of The Lion King Jr. We believe this ownership by the cast was one of many ingredients to the success of the show. Another contributor were parents who volunteered their time and energy behind the scenes. To have both parent and child experience the process together is a gift.
Over the past six years, the Kids4Kids productions have certainly changed in their quality and standard of expectations. This would not have been possible without the continual support of our patrons and season sponsors, whose generosity has built our program to what it is now. Of course, I would be remiss if I did not recognize the amazing production team who share the same passion, dedication, and investment in the Kids4Kids Series. We applaud you.
From the beginning, we knew our journey was going to be filled with complexity and unchartered territory. The Lion King Jr transformed the lives of individuals on the stage and off the stage. The show awakened the endless possibilities and potential of our young performers. It also enriched relationships among the cast that will no doubt last a lifetime. Based on the talented cast, we were confident that this production had the potential to be among our greatest achievements on stage and would transcend the hearts of our audiences. And it did just that.
Many have asked me about next year's production, "How are you going to top this?" My response: "You will just have to wait and see!"