The Color Purple
October 13 – October 29, 2022
This musical adaptation of Alice Walker's Pulitzer Prize-winning novel (and the popular 1985 Steven Spielberg film) spotlights Celie, a downtrodden young woman whose personal awakening over the course of 40 years forms the arc of this epic story.
With a joyous score featuring jazz, ragtime, gospel, African music and blues, THE COLOR PURPLE is a story of hope, a testament to the healing power of love, and a celebration of life. It premiered at the Alliance Theatre Company in Atlanta, Georgia and opened on Broadway on November 1, 2005, where it was nominated for eleven 2006 Tony Awards®, including Best Musical, Best Book, and Best Original Score. The London off-West End production moved to Broadway in 2015, winning the Tony Award® for Best Revival of a Musical.
Season Sponsor Clark Associates
Technology Partner 12:34 MicroTechnologies
Community Partner Blue Ridge Cable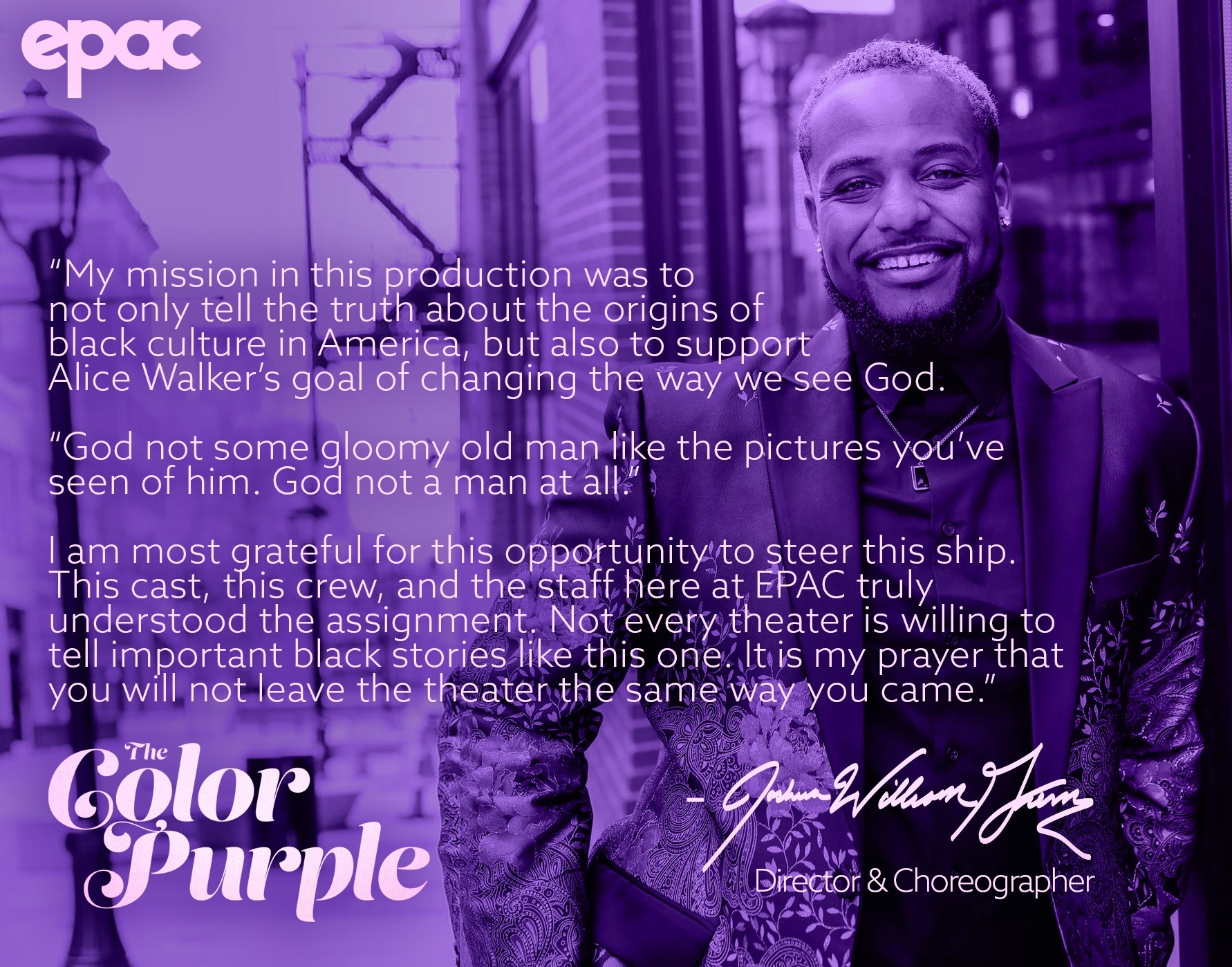 THE COLOR PURPLE
BASED UPON THE NOVEL WRITTEN BY ALICE WALKER AND THE WARNER BROS./AMBLIN ENTERTAINMENT MOTION PICTURE
Book by MARSHA NORMAN
Music and Lyrics by BRENDA RUSSELL, ALLEE WILLIS AND STEPHEN BRAY
THE COLOR PURPLE was produced on Broadway at the Broadway Theater by Oprah Winfrey, Scott Sanders, Roy Furman, and Quincy Jones. The world premiere of THE COLOR PURPLE was produced by the Alliance Theatre, Atlanta, Georgia
Alice Walker
Alice Walker is an internationally celebrated writer, poet and activist whose books include seven novels, four collections of short stories, four children's books, and volumes of essays and poetry.  She won the Pulitzer Prize in Fiction in 1983 and the National Book Award. AliceWalkersGarden.com
Marsha Norman won the Pulitzer Prize for her play, 'NIGHT, MOTHER and a Tony Award for her book of the Broadway musical, THE SECRET GARDEN. Ms. Norman is co-chair, with Christopher Durang, of the Playwriting Department of the Juilliard School and vice president of the Dramatists Guild of America. Her other plays include GETTING OUT, TRAVELER IN THE DARK, SARAH AND ABRAHAM, TRUDY BLUE, and LAST DANCE. Her published work includes Four Plays, Vol. I: Collected Plays of Marsha Norman and a novel, THE FORTUNE TELLER. She has numerous film and TV credits, Grammy and Emmy nominations, and awards from the National Endowment for the Arts, the Rockefeller Foundation, the American Academy and Institute of Arts and Letters and the Fellowship of Southern Writers. She is a native of Kentucky who lives in New York City and Long Island with her two children.
Brenda Russell has a unique musical perspective, intimate voice and prolific treasure-trove of lyrics, that prove that a truly glowing talent only deepens with time. Composer of the classics "Get Here," "If Only For One Night," and the Grammy-nominated "Piano In The Dark," Brenda's songwriting prowess and chameleon-like ability to shift between musical genres and combine styles trumpeted ovations in 2005 with the opening of the Tony Award-winning hit Broadway musical THE COLOR PURPLE, for which she, Allee Willis and Stephen Bray co-wrote the music and lyrics. Brenda and her co-authors were also nominated for a 2007 Grammy in the Best Musical Show Album category for the original cast album.
Allee Willis is a one-woman creative think-tank. A multi-disciplinary artist and visionary thinker whose range of imagination and productivity knows no bounds, her success exuberantly defies categorization; 'unique' pales as a descriptor. Willis is a Grammy-winning and Emmy- and Tony- nominated composer whose hit songs – including Earth, Wind & Fire's "September" and "Boogie Wonderland," The Pointer Sisters' 'Neutron Dance," Pet Shop Boys with Dusty Springfield's "What Have I Done To Deserve This," and The Rembrandts' "I'll Be There For You (Theme From Friends)" – have sold over 50 million records. In 2006, Willis' songs were also featured in three of the top grossing films of the year, HAPPY FEET, NIGHT AT THE MUSEUM and BABEL.
Stephen Bray is thrilled to be making his Broadway debut with THE COLOR PURPLE. After beginning music studies with private instruction in Detroit, Bray continued training at Berklee College of Music in Boston, Massachusetts. Working with Madonna, he wrote and produced many of her top-ten recordings, including "Angel," "Into the Groove," "Papa Don't Preach," "True Blue" and "Express Yourself." Performing with Breakfast Club, he earned a Grammy nomination for Best New Artist and a top-ten single. He has composed and produced for multiplatinum artists including The Jets, Gladys Knight and Kylie Minogue. Film and television projects include BEVERLY HILLS COP II, WHO'S THAT GIRL?, ALL ABOUT THE BENJAMINS and the theme for PBS's "California Connected." Stephen is developing artists for his Soultone label and looks forward to more musical theatre. He would like to thank his daughter Milena for her eternal patience and his family for their continuing support.